Top 10 coolest cars-Top 10 coolest cars
Top 10 coolest cars
Top 10 coolest cars English news Top 10 coolest cars
Top 10: Used convertibles for £10,000
Despite our mainly inclement weather here in the UK, it seems we can't get enough of convertibles. So even though we may be able to only get the roof down for three days a year without needing a scarf, what a three days it is. Convertibles are all about style and sophistication, but they don't need to cost a king's ransom.
So if you're looking to buy a drop-top, now couldn't be a better time to shop before prices rise with demand as we approach summer. We've picked out 10 of the coolest convertibles that money can buy for just £10,000.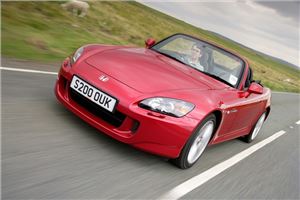 Honda S2000

The Honda S2000 offers explosive performance from its 2.0-litre 240PS engine and is beautifully crafted too. If you don't mind a stiff ride, it's well-equipped and with Honda's excellent reputation for reliability, when you come to sell it on you won't have lost much value. A quick search only revealed half a dozen cars, ranging from 2003 to 2005 models all with less than 60,000 miles on the clock, so while they may not be in abundance, if you're prepared to be patient you'll have one of the best two-seater roadsters £10k can buy.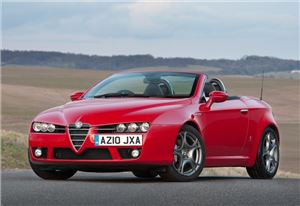 Alfa Romeo Spider review

Alfa's poor reliability reputation aside you shouldn't be put off by the Spider, with owners reporting few faults. Its key German and Japanese rivals may be more enjoyable to drive, but they don't offer the Italian flair of the Alfa. Highly specified, with gorgeous looks and a well-built, refined cabin, the Spider makes for great tourer. We'd opt for the four-wheel-drive 260PS 3.2-litre V6 model, as it handles better than the front-wheel models and although not as torquey as the 2.4-litre JTDM diesel it's a second quicker to 62mph. We found a 2007 example with 34k miles for £9500.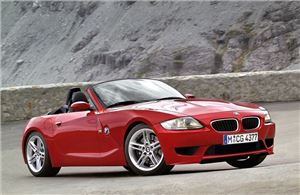 BMW Z4

The Z4 received a thorough mid-life freshening in 2006 and £10k will get you a 2008 Roadster so you'll benefit from the new range of high-power six-cylinder engines, that boast class rivalling amounts of performance, better trim levels and more equipment. A head-turning, entertaining convertible, we'd recommend the 220PS 2.5si Sport which is fun to drive quickly yet refined enough for everyday use. The Z4 offers a range of talents, and compared to the Porsche Boxster is more affordable to run and practical too.
Compare new BMW Z4 deals
| | |
| --- | --- |
| Contract hire from | £328.22 per month |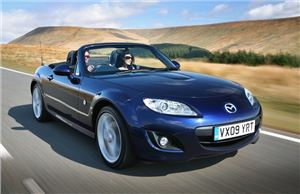 Mazda MX-5
There's a reason why the MX-5 is the world's best-selling sports car. As well as a long-standing reputation for bullet-proof reliability, it's one of the most entertaining cars to drive. If you opt for the bigger 2.0-litre you'll get the revised six-speed manual, and an Induction Sound Enhancer, that amplifies the sound from the throttle valves and pipes it into the cabin, giving it the aural edge. We found a 2011 example with just over 13,000 miles for £9.5k. If you'd prefer the back-to-basics entry-level 1.8i SE, your money will stretch to the 20th Anniversary Limited Edition with styling tweaks.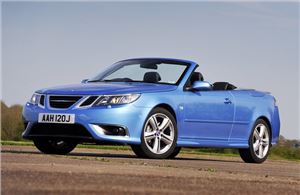 Saab 9-3 Convertible

Although Saab has been making four-seat soft-top cars for many years, the 9-3 Convertible is often overlooked. Yet it makes for a really practical everyday driver. It has an understated elegance that adheres to the brand's image, a good range of engines and reasonable levels of kit as standard. It may not be as desirable, but it's the perfect, cheaper alternative to the BMW 3 Series drop top. £10k will buy you a facelifted 2008-2010 9-3, and for that you'll get a top spec Aero model. The diesels are the best and we'd opt for the twin-turbo 1.9 TiD in manual guise, which returns 44mpg.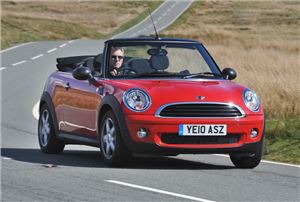 MINI Convertible
The MINI Cooper Convertible is brilliant city car and provides all the open-top driving thrills you could ask for. Although the 1.6-litre four-cylinder is more about delivering great fuel economy rather than performance, it's not at the expense of handling which is as lively as you'd imagine it to be. The market isn't awash with Cooper Convertibles for 10k but you'll be able to find a 2011 model with around 20,000 miles. If you don't mind having something older and with more miles you'll be able to get a better equipped car. Just check the electrics closely as they are fragile on MINI models.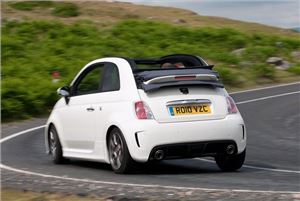 Abarth 500C

Technically speaking the 500C isn't a convertible with only roll-back cloth roof, but nonetheless you still get the wind in your hair experience and better rigidity than with a full folding soft-top. For £10,000 you can get a 2010-2011 model with either a six-speed automatic transmission or the five-speed manual. The specially tuned suspension makes the car's handling as feisty as its styling. All 500s need maintenance every 18,000 miles or two years, so just make sure you check the history carefully.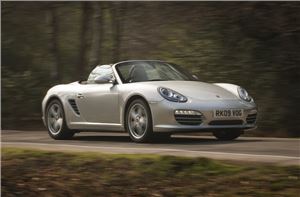 Porsche Boxster
Prices for the Porsche Boxster, which received a revised front end with redesigned headlights and a few other cosmetic changes, still remain quite high, which is why you'll only get a 2005 model for £10,000. That said it's a fantastic sports car for the price. Running costs are high, but the combination of the Boxster's good looks, mid-mounted engine, superb handling and drop top roof is unbeatable. We'd go for a high-spec car which includes the full leather package, sat-nav and Bose audio system, with the 2.7-litre base engine and avoid the Tiptronic gearbox.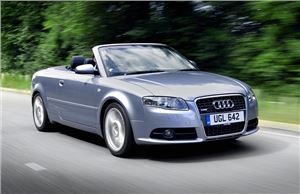 Audi A4 Cabriolet

For the same money you could buy an Audi TT 2007 model but if you want to stand out for the crowd, we suggest an S4 Cabriolet, which although will be a few years older is a bit more interesting. Add the quattro four-wheel drive which gives you unflappable confidence even in the wet, and the searingly-quick 4.2-litre V8 with its creamy burble and it's a hugely desirable alternative to the hairdressers' car Higher maintenance? Without doubt. Better? Good God, yes. We found a 2005 model with just 30,000 miles for £9,500.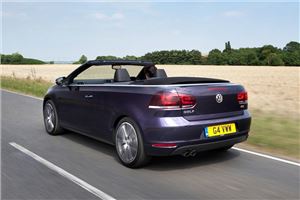 Volkswagen Golf Cabriolet

The Golf Cabriolet made its comeback in 2011 after a nine-year break. It's based on the Mk6 Golf so benefits from excellent refinement and sharp handling. In fact there are very few compromises over its hard top equivalent making it a fine choice for open top fun. Prices for the Golf Cabriolet are still quite high, and we could only find a few 1.6-litre diesel models for under £10k, which can be a bit noisy with the roof down, but fuel economy is impressive. With dealer prices starting from around £13k, you'll need to be prepared to hunt around privately.
Top 10 coolest cars
Top 10 coolest cars
Top 10 coolest cars Top news today Top 10 coolest cars
Top 10 coolest cars
Top 10: Used convertibles for £10,000 Despite our mainly inclement weather here in the UK, it seems we can't get enough of convertibles. So even though we may be able to only get the roof down
Top 10 coolest cars
Top 10 coolest cars Top 10 coolest cars Top 10 coolest cars
SOURCE:
Top 10 coolest cars
http://www.honestjohn.co.uk/topten/top-10-used-convertibles-for-gbp10000/ Top 10 coolest cars
Top 10 coolest cars-Top 10 coolest cars
Top 10 coolest cars-Top 10 coolest cars
Top 10 coolest cars-Top 10 coolest cars
Top 10 coolest cars-Top 10 coolest cars
All Rights Reserved:
Top 10 coolest cars-Top 10 coolest cars