#used cars websites
#
Complete Car Dealer Websites for $20 a Month
We have over a decade of experience in the automotive market with hundreds of our own automotive related websites from high performance parts to used car classifieds as well as loads of used car dealers hosting on our innovative automotive platform.

With pageBuzz car dealer website hosting you can do it yourself or let us do it for you. Use one of our designs, or let us make one for you, either way you pay Just $20 a month for eveything. Get a custom look, profesional website with all the tools those expensive systems offer at a fraction of the price.
How do we do it so cheap? Its our business and we have streamlined the process and created the software, we own the network and nobody can compete with our prices.
It's not like you are the only person selling cars, so why pay hundreds or thousands of dollars a month for a website when everyone else is paying only $20?
We have developed one of the simplest methods for managing inventory on automotive websites. At the same price as all of our websites. For just $20 a month any used car dealer can build and manage their own detailed website with clean crisp thumbnail pages linking to full size photos of their inventory.
Of course every car dealer gets a complete website with all of our regular features including shopping cart e-commerce, classified program, guestbook ad many other programs, templates, layouts and SEO tools. that you will probably never use.
What you will use is the complete inventory management system with click and save efficiency for adding cars and getting them posted online fast. If you can add a car to ebay or craigslist you can just as easily add cars to your own website. Additional car dealer tools include the Craigslist Auto Poster, Google Auto Trader export tools, Carfax link and logo, RSS feed submitter and feed syndication.
Simply fill in the forms with the make, model and description and it automatically gets formatted into a clean looking customizable gallery. Shown below the basic layouts for the online vehicle gallery.
Adding Vehicles
Cars are added using our simple fill in the blank technology . Photos can be uploaded up to 25 at one time (depending on size). The content management system will resize the photos and create thumbnails while automatically building pages and linking smaller images to the full size photos.
Easy to manage photo uploading and resizing. Click to delete or change images. Upload 25 pictures to each vehicle.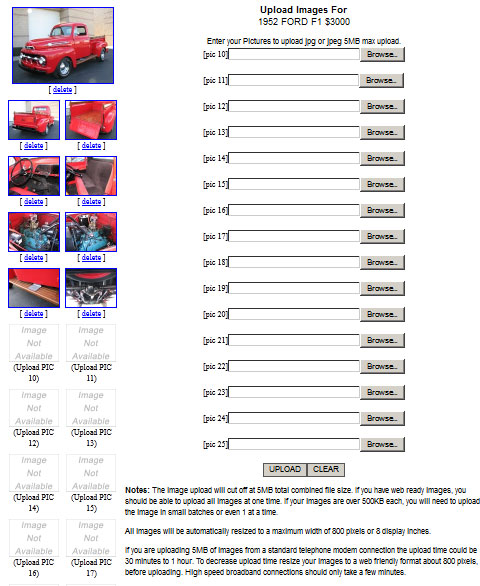 Fill in the form to create a detailed description for each vehicle.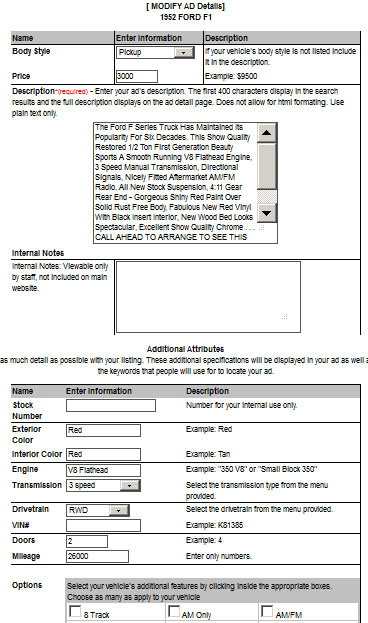 This is a revolution in managing used car websites and at our price it is easy to see why so many car dealers are choosing pageBuzz to manage their websites.
Most dealers do not need all the hype, do not need all the flash but need to have their cars posted online as quickly and easily as possible. They value their time and do not want to spend countless hours trying to learn a website content management system.
Although our system allows for thousands of pages, most car dealers choose a simple listing of their cars on their front page. This keeps the site simple and effective while providing a quality interface to present their inventory online.
Take a look at some of our car dealer sample websites marksbuyherepayhere.com. usedcardealerlot.com and rickersauto.com to see how the inventory is displayed and some of the other features that are available. When it comes to your deisgn you can dream big or keep it simple, there are no real limits on design and almost anything is possible.
UsedCarDealerLot.com is a simple design that showing standard galleries and a slideshow on the front page.
RickersAuto.com demonstrates an animated titlespace with multiple images as well as the basic dealer tools.